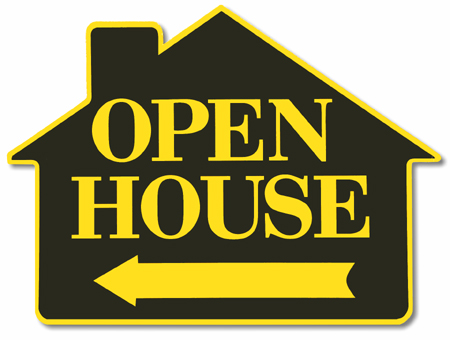 REALTOR'S GUIDE – THINGS TO CONSIDER WITH OPEN HOUSE SIGNS
When it comes to placing open house signs with your Century 21 real estate signs there are some factors that you need to think about.  Each one of these factors has been picked to help you get the most out of your open house signs.  Remember, open house signs help you to sell your listing faster.

Where To Buy Open House Signs
Buying open house signs from an online dealer with a lot of experience is a great option.  Many online dealers will give you great prices and offer bulk discounts as well as shipping deals.  Open house signs purchased online also give you a lot of flexibility in design.
How To Design Your Open House Sign
Your open house sign should be two things: easy to read and following your brand.  Besides these two things, the design of your sign is up to you.  The most successful open house signs are simple and professional.  Directional open house signs also work best because you can use them to direct your potential buyers.
Include QR Codes
A great thing to include on your open house signs is a QR code.  QR codes can contain contact information for you and a link to your listing website.  This will help potential buyers to find your listing without issue.  You could also list your phone number for another easy contact option.
When To Put Up Open House Signs
While you can have your Century 21 real estate signs up all the time, it isn't wise to leave your open house signs up.  Many real estate agents have experienced sign theft or damage when they leave their signs up for too long.  There are also codes in many places that prevent you from leaving them up overnight.
Where To Place Open House Signs
Open house signs should be placed to maximize the number of people who see them.  They should also be placed where they will direct traffic to your listing.  Many people will not know exactly where your listing is and as such use the open house signs to navigate.
How Many Signs Do You Place?
Many real estate agents in the modern era will only post an open house sign on their Century 21 real estate sign.  This is a mistake because despite open houses being published on the internet, the internet does not always give the best directions.  You will also receive a number of walk-in people who will only show up because they saw your open house sign.  More signs do equal more traffic.
How To Make Open House Signs More Visible
Open house signs should be placed in intersections to make the sign visible to more people.  If there are bushes at the intersection you should consider either moving the sign or placing it on the street side of the bushes.  Raise signs up where possible but don't infringe on other people's property without their permission.
Open house signs infographic
source: Pinterest
Keep In Mind There Are Multiple Options
When you go to buy and utilize your open house signs you should keep in mind that there are multiple options for open house signs.  Each different type of sign has different visibility and purposes.  Use them in different circumstances to amplify the visibility of your open house.  Here are some of the options available for open house signs:
Balloons
Directional Signs
Sign Boards
Sign Posts
Sign Riders